Georgia Bureau of Investigation
Georgia Law Enforcement Criminal Intelligence Analysis Certification Program
Georgia Law Enforcement Criminal Intelligence Analysis Certification Program
NOTICE – UPDATE to the PROGRAM (3/2022)
large_Analysts-working-smaller.jpg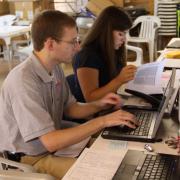 The program is undergoing modifications for Georgia POST certification and is currently not accepting any new applicants at this point.  The GBI is working with POST to create an appropriate curriculum and training program for a State of Georgia Criminal Intelligence Analyst certification. Thank you for your continued interest and patience as we work toward producing a premier intelligence analyst training program that will be available to all interested and qualified personnel in law enforcement through Georgia POST.
If you have any questions concerning the program please email – [email protected] or call GISAC at (404) 561-8497
The Georgia Bureau of Investigation has implemented a statewide training and professional development certification program for all Criminal Intelligence Analysts employed in both local and state law enforcement departments.  The program is managed by the Georgia Information Sharing and Analysis Center (GISAC), a GBI work unit which serves as Georgia's intelligence fusion center.  The program is tasked with recognizing the training and professional development needs of intelligence analysts throughout the state, and then identifying specific solutions to meet those needs within a single, formalized program. 
PROGRAM BENEFITS
The program will serve to accomplish the following:
To professionalize and enhance the practice of intelligence collection and analysis in order to maximize the benefits derived from the intelligence information.
To instill and promote professionalism and leadership within the intelligence analyst community in Georgia
To promote the statewide use of current best practices with regard to proper collection, handling and use of intelligence information, and with regard to protection of privacy, civil rights and civil liberties
To enhance a recognition of the professional role of the law enforcement intelligence analyst, and to promote the growth of this critical profession throughout Georgia law enforcement
To help develop career track opportunities for intelligence analysts and aid in professional growth and general
Georgia Information Sharing and Analysis Center (GISAC)