Regional Drug Enforcement Offices
RDEO Map - 2020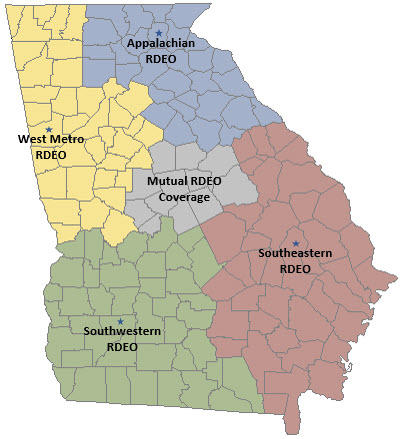 The Georgia Bureau of Investigation, having statewide original jurisdiction in drug enforcement investigations, is committed to providing the highest quality drug enforcement services for the citizens of Georgia through the contributions of highly skilled employees, state of the art equipment and a well defined strategy. Our continued focus is to combine GBI resources with existing federal, state and local resources in a cooperative effort to identify and investigate individuals or drug trafficking organizations which are importing, manufacturing and distributing illegal drugs in Georgia. 
Currently, the GBI has Regional Drug Enforcement Offices based in Carrollton, Cleveland, Metter, and Albany which cover the four corners of Georgia. The GBI, in partnership with the Criminal Justice Coordinating Council and local law enforcement, supports the multi-jurisdictional drug task force effort within the Regional Drug Enforcement Office programs. 
The GBI also has agents assigned fulltime to the following task forces:
Atlanta-Carolina High Intensity Drug Trafficking Area (HIDTA)
The Atlanta-Carolina HIDTA consists of federal, state, and local drug agents who focus on identifying and arresting the most prolific regional drug traffickers operating in various jurisdictions in Georgia, North Carolina, and South Carolina.
Organized Crime Drug Enforcement Task Forces (OCDETF) Strike Force
The OCDETF Strike Force is designed to investigate and prosecute the highest-level members of international drug cartels that have operations in metro Atlanta and throughout the United States.  To this end, the Strike Force focuses on national investigations that are coordinated with OCDETF Strike Forces located in other cities and investigators located throughout the United States and the world.