The State of Georgia Body Recovery Team (GBRT) is a collaborative unit of volunteers assigned with the mission of the recovery and identification of human remains resulting from a mass fatality incident. These volunteers consist of trained personnel from the Department of Corrections (DOC), Department of Natural Resources (DNR) and the Georgia Bureau of Investigation (GBI). The GBRT is also complemented by a K-9 unit comprised of civilian volunteers and their K-9 partners. The GBRT is one of the first state response teams in the United States created for the sole purpose of body recovery and identification. The GBI is the primary agency responsible for command and control as it relates to human remains recovery and identification.
164742521BRT2_0.JPG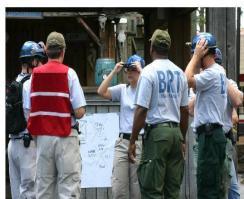 The team was formed in 2002 as a result of the 1994 flood that disinterred over 400 caskets with human remains from a cemetery in Albany, Georgia and the 2002 Tri-State Crematory investigation where over 300 human remains were recovered. These incidents not only involved the recovery of the remains but the identification process to return the remains to their proper burial site or family members for burial. The initial formation of the team was inclusive of 50 agents from the Investigative Division of the GBI and laboratory personnel from the Division of Forensic Sciences of the GBI. Subsequently, additional volunteers were added from the DOC, DNR, a civilian K-9 component and Office of Homeland Security – Georgia Emergency Management Agency (OHS-GEMA). The GBRT currently consist of over 100 personnel ready to respond to an incident. Funding obtained through the Homeland Security Grant Program has equipped personnel with specialized training and equipment to be utilized in human remains recovery efforts.
164742524BRT11_0.JPG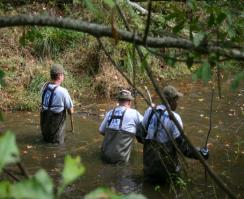 In 2005, the GBRT was requested by the State of Mississippi to assist in the recovery of human remains resulting from Hurricane Katrina that struck the populated coastline of the state. This deployment resulted in establishing on going working relationships with the Georgia Urban Search and Rescue Program as well as federal resources such as FEMA – Urban Search and Rescue teams and the Disaster of Mortuary Operational Response Teams.