Bingo Coordinator
Bingo Coordinator

168670934BingoCard.jpg

Bingo has traditionally been viewed as a harmless game played primarily by retirees, although in reality, bingo is enjoyed by both young and old alike. Bingo is one of only three legal forms of gambling in Georgia. The other two legal forms of gambling are the Georgia Lottery and raffles. Every night across the state, thousands of players crowd into auditoriums and bingo halls in hopes of winning cash prizes. Annually, millions of dollars pass through the hands of Georgia bingo operators.
A 1976 constitutional amendment made an exception to the state gambling laws by legalizing bingo for nonprofit organizations. The amendment, however, provided no restrictions or regulation of the bingo activity. During the next two years, many legitimate nonprofit organizations struggled to operate bingo within the intent of the law while many professional bingo operators freely used or created nonprofit organizations to make a profit from bingo.
In 1978, the Supreme Court upheld a 1977 bingo law that empowered the Department of Revenue to enforce the bingo statute and required all organizations operating bingo to be licensed. The law also provided operational restrictions for bingo games that allowed the legitimate non-profit groups to continue operating bingo, but put the organized gamblers out of business.
In 1980, the Georgia General Assembly passed legislation that gave the Georgia Bureau of Investigation the authority to enforce and regulate bingo.  There are currently 137 active and 29 inactive bingo operations in Georgia.  In 2016, the average game grossed $143,406 annually with many games located in metropolitan areas grossing over $300,000 annually.  Collectively in 2016, bingo licensees grossed over $24 million.  During this period, prizes paid to players totaled over $16 million and charitable contributions by bingo licensees totaled $810,669.
168672346bingoballs_0.jpg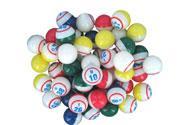 Georgia's bingo statute is one of the most restrictive in the country. Georgia allows $3,000 per week to be paid in prizes. The amount of the prizes directly relates to the amount bet by bingo players and limits the profits that can be made by the operator.
Annually, the GBI investigates approximately 5 new license applications and 2,000 new bingo workers/officers. Bingo licensees must maintain records of all bingo receipts and expenditures, prizes paid out and the names and addresses of winners. Bingo equipment cannot be altered and must be in good working condition. All bingo operators must be active members of the licensed organization and approved by the GBI before they are allowed to assist with bingo operations. A database of 10,411 approved individuals is currently maintained by the GBI and updated daily.
The majority of Georgia's bingo operators, consisting of veterans groups and service clubs, run their bingo games as a fund raising activity as intended by law. However, bingo is the lifeblood for some organizations and the main purpose for their existence. Although Georgia's bingo games are on a restricted scale, bingo is a cash flow business that leaves ample room for misuse.
Bingo is not the only form of gambling found in some of these organizations. Illegal lotteries, pull-tabs and slot machines have been used by some to generate additional income. Since 1981 about 50 organizations have lost their bingo license through suspension or revocation for repeated rule violations or for conducting illegal gambling activities. Many of these organizations and their officers have been charged with commercial gambling or related crimes.
Bingo Coordinator - Related Links